Dave McVey, Annie and Emma
Dave is Sherri's partner and provides support in all aspects of the business. Dave is a businessman (independent sales rep to the furniture and RV industry) and all around pet lover.  He has a lot of knowledge about reptiles and along with Sherri, owns two lizards and a female cat named Lawrence (?) in addition to Annie and Emma. He is particularly helpful when Sherri is providing care for the guest dogs in their home and for chauffeuring Sherri to pet-sitting visits in inclement weather and snow (well ok, all the time really).  Annie and Emma are the NPS resident supervising managers and take their job very seriously as only a WESTIE can. They love all our guests and provide socialization and fun for the puppies and dogs that stay at our house.
Ian Croghan, Reyn Croghan, Michaela Bell
Ian and Reyn (Sherri's children) have been involved with the business since they were toddlers. Michaela (Sherri's daughter in law) has been helping out for about 6 years. Ian attended Indiana University and works for Buddenbaum and Moore.  We call him the dog whisperer in our family and he's also great at fixing anything! Reyn attended Indiana University and then attended graduate school at University of Indianapolis. She is a clinical mental health therapist in private practice. Michaela attended IUPUI both undergrad and for graduate school and is a solar engineer working for PSG Energy group. All three serve as back up during busy times and can provide care as pet sitters, dog walkers and will also board client pets in their homes on occasion.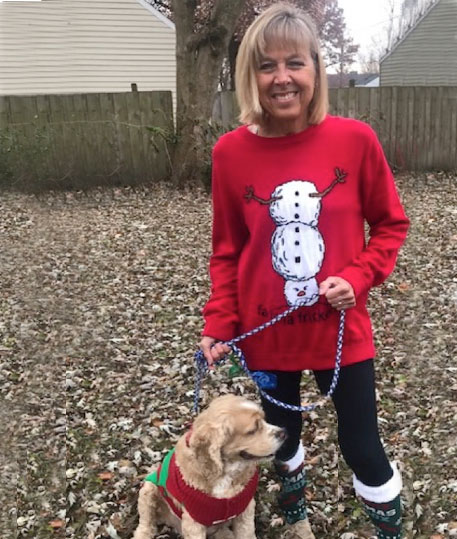 Sandy is a retired surgical nurse, (RN) avid runner and walker. She is married (husband Tim). Shown here with her dog, Clark, Sandy provides all services for NPS. Sandy is extremely willing, responsible and punctual and beautifully manages a full and tight dog care schedule! She has been providing pet care services since 2014. Sandy provides midday dog walking (and running), pet sitting visits, occasional move in care and she, Clark and Tim provide boarding in their home. With her medical background, Sandy is astute at assessing health and well being of the pets in her care and can provide medication services. She is confident with sick, post op or geriatric pets. Sandy is allergic to cats so only provides dog care.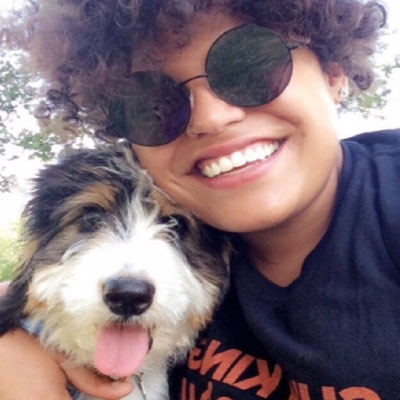 Cierra (pictured here with client dog, Kalo) is a graduate of Ball State University (2016) with a degree in Public Communications. She has been providing pet services since 2016. Cierra provides midday dog walking, pet sitting visits, and boarding in her home. Her specialty, however, is move-in care. Her clients love the care and attention she gives their pets but also love the job she does at caring for their homes. This girl can clean!!!! Cierra is also willing to provide a la carte concierge services for clients. She can clean, de-clutter, organize closets and play rooms, serve as personal shopper, garden and weed, paint and really- will try anything. Cierra is very personable and her clients form close relationships with her. She cares for both dogs and cats (and the occasional chicken coop).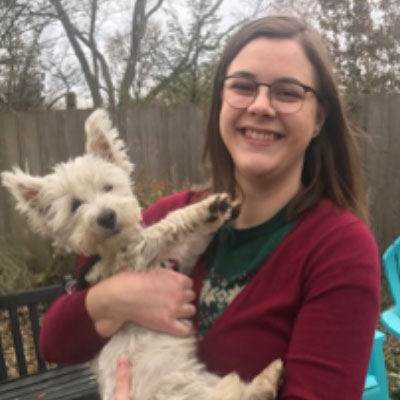 Sarah (pictured here with staff member Miss Annie) is a 2016 graduate of Purdue University with a major in Neuroscience and a minor in Art History. Sarah has been providing pet services since 2018. She provides midday dog walking, pet-sitting visits and occasional move in care. Sarah is very science and data oriented and loves learning about animals and what makes them tick! She cares for both dogs and cats.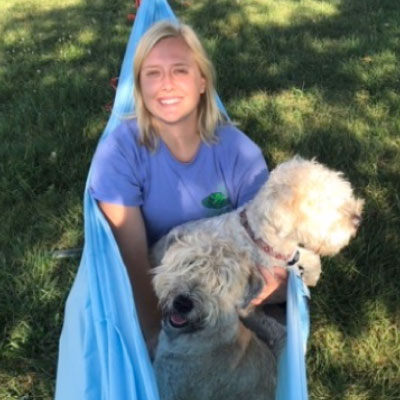 Brynne (pictured here with her Wheatens, Harper Jane and Finley Mae – She also has a standard poodle, Brody) is a Junior at Marion college majoring in Chemistry with a minor in Psychology. Brynne's mom used to be Sherri's nanny when she first started the business and so Sherri has known Brynne since she was born. Brynne is trying to decide between medical school and grad school to become a pilot. She's a very bright young woman! Brynne is providing midday dog walking, pet sitting and move in care.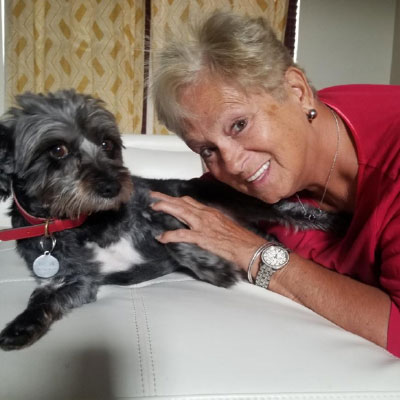 Pam is one of Sherri's best friends and they have known each other 20+ years. She is a retired Special Education teacher from MSDWT as well and has lots of time to devote to pet care. Pam will fill in in any area that we need help but her specialty is move-in care.  She loves animals and is kind and gentle in her approaches to care. Pam is shown in the picture with her grand dog Vivian.