Northside Pet Services has been our petsitter for four years now, and I cannot recommend them enough! Sherri and her crew are reliable and they care for our "kids" like they were their own. They go above and beyond, and truly give us peace of mind when we're gone.
I have been using Northside Pet Service for the last 3-4 years. Sherri (owner) takes excellent care of my geriatric Siamese cat, Kisha. My baby girl is now 21 years old. She has been struggling with kidney disease for the last 5 years. I would trust no other organization to care for my girl. Sherri does so much more than feed her. She also gives her medicines, monitors her urine output & bowel movements, cuddles with her, brushes her, and cleans out her eye snot. In addition, she gets and organizes our mail, waters our plants, and closes/opens our curtains. She even monitors our pet snake to ensure her well being. Sherri's is kind, caring, & dependable. Also, I like how her fees are based on a per visit basis & not based on the time it takes to complete the needed tasks. I would highly recommend her and her staff to anyone!!
I was lucky enough to be referred to Northside Pet services by a friend when my dog Zoey got sick.  I felt like I needed someone to check in on her when I was gone.  Sherri set me up with one of her walkers Sandy and I couldn't have had a better experience!  Sandy would check in with me and I always enjoyed getting pics of my pup when I couldn't be there!  I can attest to the fact that they love each dog like their own and especially felt this after the passing of my sweet pup.  Luckily I have recently been blessed with a new puppy and started using her service again!  The joy they get from my Chloe is as much as I do!  I highly recommend their services, you will not be disappointed!
I heartily recommend Sherri Campbell for all your petsitting needs.  Sherri watched my special needs pug , Lola during the last several years of her life. She was even the person I asked to go with me when the time came to put her to sleep.  I now have a new baby Frenchton, Matilda, and I couldn't wait to introduce her to Sherri. She has spent nights with her and also just gone over for the day to play in Doggie Day Care.
Every time we pull into the drive, Matilda is so happy to be there, she doesn't even care that I'm leaving. Both Lola and Matilda always came home happy and exhausted. I am always comfortable leaving my pets there, and Sherri's veterinary background is an added bonus, should medical issues arise. Sherri is always responsible, punctual, flexible, and most importantly loves your pet. I used to always feel guilty when I had to leave my pets for extended periods of time, but that all stopped when I found Sherri. I can't speak highly enough of her.
Sherri's daughter, Reyn Croghan, proved invaluable to me when I had Lola in Bloomington. She went out of her way to take care of her, sometimes even changing her plans to do so. Lola loves her and I know Matilda will too. Reyn is very passionate about animals and is also trustworthy, reliable, kind, and responsible . I feel  absolutely confident leaving Matilda with Reyn.
What more can we say, Sherri and the Northside Pet Services Crew are absolutely amazing! From the instant we met Sherri 7 years ago, she has been part of our family! When we need someone to care for our dog, there's never a question who our 1st choice is. When our dog stays with 'Auntie Sherri' she is treated as part of her family, which is a relief for us. Often times, our dog doesn't want to leave Sherri's to come home! We are so grateful for how wonderful Sherri has been to us and our dog Dime, over all these years.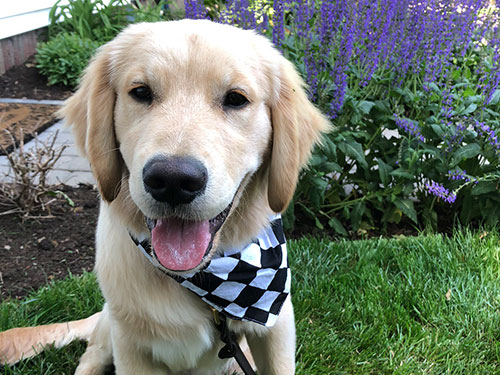 Teddy loves getting boarded at Sherri's house! He and Annie, Sherri's dog, have such a fun time running around the large front and backyards, and playing in the dog baby pool. I like that Sherri limits the amount of dogs that she boards at any one time in order to ensure that each boarded dog is properly monitored, walked, fed and given enough attention. Sherri communicates regularly giving updates to me and with her veterinarian background, it all gives me peace of mind. I feel confident that Teddy is in great hands whenever he stays with Sherri.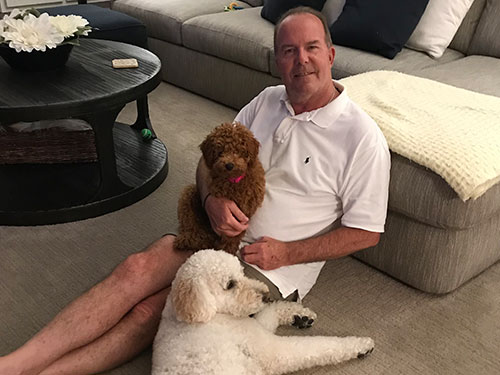 Sherri has been caring for our pups for seven years. We are now entering the third generation with our newest addition Evie. Sherri's home is an extension of our home, and she cares for our girls as if they were her own. We trust her implicitly and never worry about how the pups are doing when they are with her. Sherri stays in touch through texts and pictures which just makes it a little easier to be away from them. Now that our children are grown up, Mollie and Evie are our kids!
I would strongly recommend Sherri and her team to help take care of your dog! Sherri and her team are much more than dog walkers. We hired Sherri from day one to come walk our dog, Howard, twice a day. Howie was still a small puppy and our dog walker, Cierra, was kind and gentle with him. She walked him, fed him, and gave him lots of cuddles when she came. She also taught him how to sit, lay down, and shake! She left me detailed notes and sent me quick texts to give me updates on Howie's day. We only need her once a day now, but I know Howard loves his visits with her.
We also love to participate in puppy playdate at Sherri's house. Sherri will have a small group of puppies and small dogs to her house for the entire day!  Howard is beside himself he has so much fun. She has a huge fenced-in yard and even a bone-shaped pool. He has so much fun I can barely get him in the car to go home in the evening, and Sherri always sends him home with a bag of treats.
Sherri also watched Howard when we went on vacation this summer. I can feel comfortable and happy that he is being taken care of exactly as he would be at home, and her prices are very fair. Sherri and her team treat Howie like he is their own dog and love him as much as we do. I am so thankful that she is in our life!
Gianna Mohrman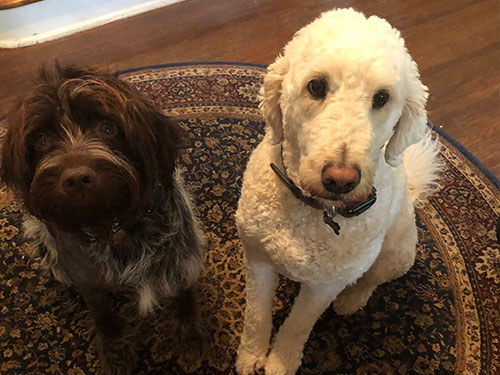 We have been using Northside Pet Services for almost two years. We travel a lot and it is so nice to be able to let our dogs, Annie and Arthur stay in their own home. This last trip our Annie recently had surgery and she needed extra care, which she got from our sitter.
Every time we return home, our house is in the same condition that we left it. We have had great experiences with Sherri Campbell's company, Northside Pet Services and highly recommend her!
John and Sandy Papageorge